It had been at least three years since I had been to DAMNY. While I had attended local DAMChicago and DAMLA events, DAMNY is different.
Every time I attend a Henry Stewart DAM event they are well done. Each one is different based on the industry of the area and of course the attendees.
I was most excited to go back to DAMNY as I saw that a few of the big brands and their DAMLadies were speaking. Mostly DAMPioneer woman Carin Forman and Ellen Payne from Hearst publications were among the new faces that I met this year. Of course my other favorites like Theresa Regil was there giving her view of how DAM really is more than just a tool we use but the fuel for change. And I will cry if anyone other than David Lipsey ever emcees these events.
Even though I am not in an official DAM capacity right now. I do love change. I love change so much that I love turning things on their end to see what shakes out. I love asking the questions that no one in the room feels like doing because they are too close to the problem.  My new role I get to ask all those questions and I love it.
So I usually ask a lot of questions about the why of things. Mostly because when you look at LEAN (which is my world) and you are looking at problem or even just how you do something, rarely people look at the why.
Mostly because it stems from "that's the way we do things here" or "process" or "its procedure" or even "we are required by law".
Totally get that. But the first three just because it is the process or procedure or the way things are done, is it the best? Is it the most prioritized? Is it the most value? If it is, why is it? If it isn't why isn't it? (pretty deep huh?)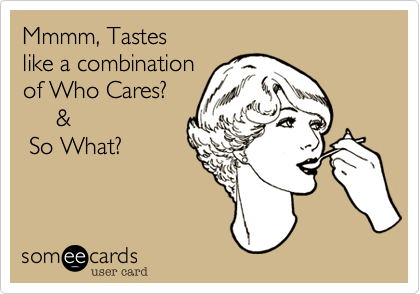 Exactly my thoughts, lady in #50shadesofbeige eCard.
So why do lots of DAM nerds (like myself) flock together in each region of the US (and in Europe)  annually? Also who cares that we do?
5 reasons:
We fuel the change in our vendors
I can't tell you how many people I talked to about how the needs of their business or how they use the DAM have changed how the tools are created, updated and utilized across the industry.
We have a community of like minded DAMnerds that come together
When we come together as a community we fuel each other. Not many people outside of our community really 'get' what we do or why we think its so important. When we are around our peers it fuels us to do better and sparks in us something new.
We educate ourselves so that we can then educate our firms
There isn't a whole lot of continuous education for DAM folks. When we go to things like DAMNY or the like we are able to hear case studies of how things went really.  Not just what the analysts say about the tools and how they perform but hearing from clients and companies that actually use those tools. The big question that many companies have are "what does maturity look like" when it comes to DAM. Who's been doing it longest and how does the company work differently.
We learn from the people who have done it, not just people that know a lot (real people only please)
Tons of conventions and seminars are all about super smart people that know way more than you do about stuff. Which is really great. But sometimes you just really want to ask a dumb question. And these are the people, the real people, that we continue to get to know after the event is over.  What's really cool about this community is that it's real people. Not only do they give you their card, but most of them will connect up with you on LinkedIn. Collaborate with you on projects or answer questions way after you've come back to your job months later.
Even if you know nothing about DAM, you'll still come away with "a-ha's"
Okay it might sound like a stretch but I think the world of DAM sounds like its technical or boring or something that only nerdy people like me like. But as first timers come and listen it all starts to click. A friend met me up in New York and she was invited to one of the meet and greets. I told her to hold tight while she was inducted into DAM. She listened and started asking questions and by the end of it she was like….I wonder if the firm I work for has one, and if not WHY NOT. Keep in mind before this she had no clue what DAM was other than a place people put stuff they don't want to lose and reuse again and that at some point I launched one worldwide.
Stay tuned in to this particular DAM channel for more. More what you say? Well, you'll just have to check back to see but I am looking forward to talking with OG DAMPioneers. If you know one or have met one, send them my way.